SUWIS Open
2022 Results
Congrats to the Hawg Gone crew!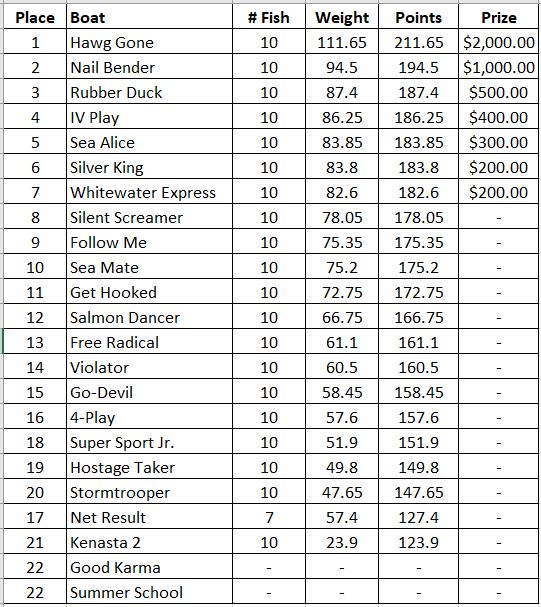 Saturday, June 4, 2022  - Racine, WI
Tournament Headquarters: Pershing Park Boat Ramp Pavilion
$150 per Boat Entry
85% of the proceeds will be returned as prizes.
15% of proceeds will benefit the Lake Michigan Fishery.
---
Big Fish Prizes sponsored by: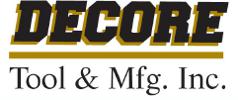 $1,000 Overall Big Fish
$250 Big Fish Per Species
$500 Small Boat Prize
Registration Form  Register Online
---
OFFICIAL RULES
LIABILITY, ELIGIBILITY AND ENTRY FEE
Sponsors are not liable for any injuries or damages that occur during any portion of the event.
This tournament is open to everyone.
All participants will compete in one, open division.
The entry fee is $150 per boat
All applications and payments must be received no later than June 3, 2022 at 7:00pm.
Entry fees are non-refundable after June 3, 2022, 7:00pm, except in the event of the cancellation of the tournament.
DATES AND HOURS
The tournament will be held on June 4, 2022. Tournament may be delayed at committee discretion based upon weather conditions. Rain date will be Sunday, June 5, 2022.
The tournament schedule will be as follows:
Captain's Meeting – Friday, June 3, 2022. Location: Pershing Park Boat Ramp Pavilion at 7:00pm.
Fishing Period - 5:00am to 1:00pm.
Each boat and crew must have at least one member in attendance at the Captain's Meeting.
The contest will be considered official if a total of three (3) hours are fished.
START AND FINISH
All boats must start from and return to Racine by water.
Check in will begin at approximately 4:15 am.  The Tournament Committee Boat will check-in all boats by visual and/or VHF radio (Channel 68). All boats will be subject to a cooler check prior to leaving the harbor.
Run Time: Shotgun start as soon as all boats are checked in (approximately 4:30 AM).
The official start of the fishing period will be announced by Tournament Control at 5:00am on VHF channel 68.
NO lines may be placed in the water before the 5:00am start announcement.  You are on your honor.
Each boat must be inside the green can prior to the end of the fishing period (1:00pm).
Each boat must check in with Tournament Control, by VHF radio on channel 68, as they enter the harbor.
Every boat must check in at the end of the contest on Channel 68.
All boats must drop off their sealed cooler to the Small Boat Basin (ie. Pershing Park Boat Launch Pavilion). A crew member must stay with the cooler until fish are weighed.
SCORING
All winners will be determined by the Tournament Committee, and their decision will be final.
Winners will be determined on the total accumulation of points.  Points will be assigned as ten points per fish and one point per pound.
The following species shall be eligible for points: COHO SALMON, CHINOOK SALMON, BROWN TROUT, STEELHEAD OR RAINBOW TROUT and LAKE TROUT.
PRIZES
The prize money pool will consist of 85% of the total entry fees collected.  The other 15% will go to the Salmon Unlimited to help improve the Lake Michigan fishery.
Cash prizes will be awarded to the top 23% boats entered based on the following percentages of 85% total entry fees. The prize structure based on 30 boats. If the number of boats greater or less than 30, the prize structure will be adjusted accordingly.

1st Place $2000
2nd Place $1000
3rd Place $500
4th Place $400
5th Place $300
6th Place $200
7th Place $200

Big Fish sponsored by DeCore Tool

Largest Fish - $1,000
Largest Fish of the remaining 4 species - $250
Small Boat Prize (< 24 ft) - $500

In case of ties, the prize money between the two or more places the participants would have won will be divided equally between the tied contestants.
Participants may win more than one prize.
BOAT IDENTIFICATION
The Tournament Committee will furnish to each contestant a boat identification number.
The boat identification number must be displayed on the Starboard side of the participant's boat always during the contest.
GENERAL FISHING RULES
All fish entered must be caught on hook and line in accordance with the DNR regulations of the state which has jurisdiction over the waters being fished.
Any violation of USCG or DNR rules will result in immediate disqualification.
Each boat is limited to use a maximum of nine (9) rods/lures at one time and a three-person limit of fifteen (15) fish with a maximum of up to six (6) lake trout.
Each boat may weigh a maximum of ten (10) fish, with a maximum of up to four (4) lake trout.
Each team is responsible for choosing which of their fish are to be weighed.
Fish entered for big fish bonus prizes must be part of the ten (10) fish tournament box.
All fish to be weighed must be brought to the scale in a sealed cooler.
Fish may be released when caught. Fish to be released must be returned to the lake immediately.
There are no distance limits as to where a tournament boat may fish given that all traveling is done on the water.
All fish kept must be logged on the fish log sheet.
Each boat that reaches the fifteen-fish limit shall immediately cease fishing, bring in all lines, and return to the harbor for the weigh-in.
WEIGH-IN
At the close of the contest, each boat must seal their cooler with tape and proceed immediately to the weigh-in.
Once there, a crew member will disembark with the sealed cooler of fish and signed fish log.  Tournament staff will be at the pier by the launch ramps to direct contestants to the weigh-in location.
A crew member must remain with the catch until it has been officially weighed.
Once sealed, the cooler of fish must remain sealed until opened by officials at the weigh-in station.
RADIO PROCEDURE
Every boat must be equipped with an operating VHF marine radio equipped with channels 16 and 68. All boats should monitor channel 68 for contest information.
CANCELLATIONS
The Tournament Committee will announce, one hour before fishing is scheduled to begin, their decision if the contest will be run. The Tournament Judges may cancel the Tournament at any time when, in their opinion, the conditions could be dangerous to persons or property.
The Tournament Committee may also decide to delay the start of fishing or to cut short the fishing due to deteriorating weather conditions.
PROTESTS
All protests must be made in writing to the Tournament Committee before 5:00pm on the day of the tournament.
Any written protest given to the Tournament Committee must be accompanied by a $100.00 deposit, returnable if the protest is judged valid.
A panel of three (3) judges appointed by the Tournament Committee will resolve all disputes.
Winners and any person involved in any formal protest may be subject to polygraph testing, prior to the awarding of prizes. Such persons must be available to be tested within 2 weeks of the event.
The decision of the Tournament Committee and/or its duly appointed panel of judges shall be final.
RULE CHANGES
The Tournament Committee may change or modify any of these rules, as necessary.  Any changes will be communicated at the Captain's Meeting.
LIABILITY EXCLUSION
Each contestant shall accept responsibility to protect persons and property from injury or damage during the contest, and Salmon Unlimited of Wisconsin shall not be responsible for the safety of persons or property of participants, regardless of cause.
All participants further agree to hold Salmon Unlimited of Wisconsin, its officers, tournament committee, sponsors, and volunteers harmless from any liability for damage incurred from participation in the Tournament, in whatever form or manner said liabilities or damages might be incurred.
---