RRSF Open House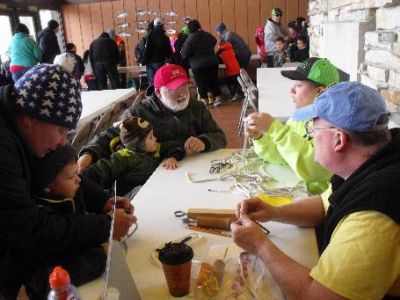 OPEN HOUSE 10/8/2022
2200 Domanik Dr
Racine, WI 53405
The weir facility was built in 1992-93 to help the Wisconsin Department of Natural Resources more effectively manage Lake Michigan's trout and salmon fishery. Each fall and spring, migrating chinook salmon, coho salmon, brown trout and rainbow trout (steelhead) enter the streams as part of their spawning ritual. Because successful natural reproduction of trout and salmon does not occur in Wisconsin waters, the fishery is entirely dependent upon hatchery-raised fish. This facility is Wisconsin's primary source of steelhead eggs and brood (parent) stock and is the backup facility for the collection of eggs of other trout and salmon species. Each year, approximately 500,000 steelhead are stocked in Wisconsin waters. The weir is the tool with which the DNR collects the eggs to accomplish this goal.
For the past 10 years (with exception to the Covid interruption) Salmon Unlimited WI has co-sponsored this yearly event. The WDNR does guided tours of the facility to educate the public on what they do at the facility and why they do it. Highlights from the event are fly casting (for adults), youth casting and knot tying. The Root-Pike WIN (Sweet Water) is also involved with educating youth on keeping our waterways clean for future generations. We provide a charter boat and a captain to explain how fishing works on Lake Michigan. We also have an exhibit and a representative to answer questions about our Net Pen Project. The total highlight of the day comes from the varieties of ways to prepare Lake Michigan Salmon/Trout.
Demonstrations and food and beverages are available for a small donation to defray expenses of the materials used for the food. Typically, there are smoked salmon, salmon patties, a fish boil and hot dogs. The event is usually attended by 1,500 to 2,000 visitors from many surrounding states.